Our Dogs
MEET THE "DOGS WITH JOBS"
Our Love & Care for Dogs
We feel that the dogs are the most important part of Howling Dog Tours. One example of the love and care we give our dogs is the fact that we only use professional guides to drive our teams; we would never allow an inexperienced driver to take the teams out without intense training.
At Howling Dog Tours, having a kennel of 200 dogs allows for great run/rest ratios during the day as well as during the week. With the advantage of having trained guides on every sled, there is the flexibility to change the strength of the teams to allow for more or less weight, thus allowing the dogs to maintain a nice working pace and our sleds have no need for weight restrictions. As proven with the Iditarod dogs, the Alaskan Husky is capable of handling much more than the runs they take at Howling Dog tours – doing their job is not a hardship at all and they do it with zest!
Sled Dog Ethics & Best Practices

Learn more about a few of our team dogs
Sled Dog Breeds
Howling Dog Tours runs several sled dog breeds, the Alaskan Husky, the Siberian Husky and the Seppala Siberian Husky.
The Alaskan Racing Husky has been made famous by such long distance races as the Iditarod and the Yukon Quest. This breed originated from the villages in Alaska where racers crossed the hearty and beautiful Siberian Husky to other breeds such as the greyhound and pointer; this created a breed well suited to sled dog racing and touring.
Friendly, sleek and good natured, the Alaskan Husky comes in a variety of colors, sizes and attitudes! For a more in-depth look at the fantastic work ethic and physical capabilities of the Alaskan Racing husky please see the following linked article: https://en.wikipedia.org/wiki/...
Racing Veterans
From their early racing days (1989-1995), Rich and Dana have developed a great kennel of eager, friendly dogs; the working breed you will see are kept healthy and happy – it shows in their attitude! We have experienced Yukon Quest or Iditarod veterans in the kennel, along with some sprint lines from profession racing kennels (Streeper Kennels out of BC).
Our company policy is to adopt dogs into our teams rather than have puppies; currently 70% of our kennel are adopted dogs. Additions to the kennel come from a variety of homes - mushers that want to retire or downsize their kennels, or dogs that don't make the race team for a variety of reasons. The latest trend in sprint racing brings us a few Alaskan Husky/German Short-haired Pointer crosses; lean, floppy eared and fast, this super friendly cross breed adds character to the wonderful sled dogs in the Howling Dog Tours kennel. To complete the pack, you can also meet our pure-bred Siberian Huskies.
Adopt A Dog!
Have you ever considered adopting a senior sled dog? It takes a special person with plenty of love, patience and time to help the senior huskies transition to a new home. Depending upon the dog's background, a senior dog can be successfully re-homed to provide companionship and fun for a future family. If you know you would be a good fit for taking in a new family member, send us an email and we can find the perfect match for you.
Meet some of our Team Dogs
Apollo
Alaskan Husky Apollo is a hard working team dog who loves to pull! At six years old, he has won the hearts of many guests because of his funky looks and friendly personality.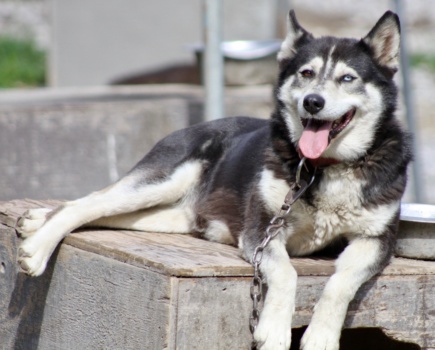 Cedar
Cedar is a 7 year old Siberian husky who was born in our kennel! This sweet girl is full of energy and loves to give kisses. She gets her good looks from her mom Arctic. She had a litter of her own and was an excellent mom keeping up with 3 very big and energetic puppies.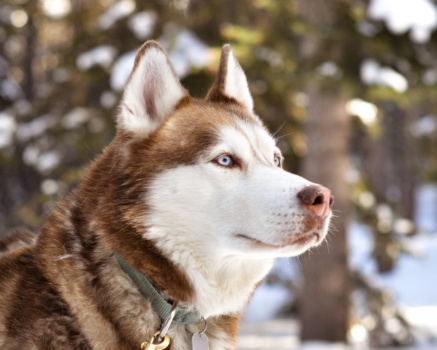 Sundance
Sundance AKA Sunny AKA Prince is a male purebred Siberian husky who turned 10 this year! You would never believe it though because until recently he still acted very much like a puppy. He's a beautiful dog and he knows it, he had a brief modeling career (you may have seen him on billboards or advertisements in Canmore and Banff) that has definitely gone to his head. He is a gentle dog that is great with kids. He enjoys running but doesn't work particularly hard - unless he's behind a cute young female.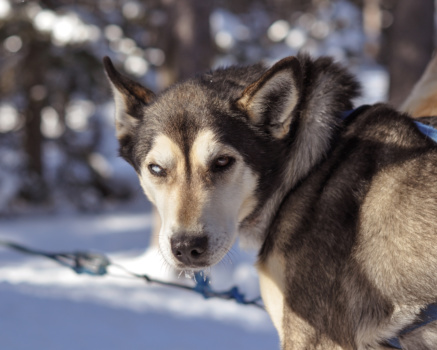 Loki
Loki, the troublemaker that lives up to his name! He was born in our kennel six years ago and still acts like a young pup! He likes fooling around and playing in the snow. He likes all the attention he can get! He is much sillier than his brothers: Thor, Hades, Zues, Odin, Mars and Triton.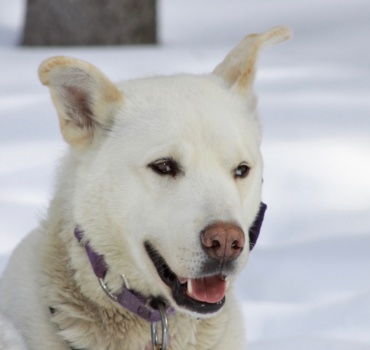 Shamu
Shamu is a 7-year-old former purebred Siberian class sprint racer. He came to use form a purebred team in central Alberta. He is a little shy but once he is hooked up to the sled he is jumping with excitement! He is a very strong wheel dog that is incredibly focused. If you look closely one of his eyes is part blue and part brown, he has those famous stunning husky eyes!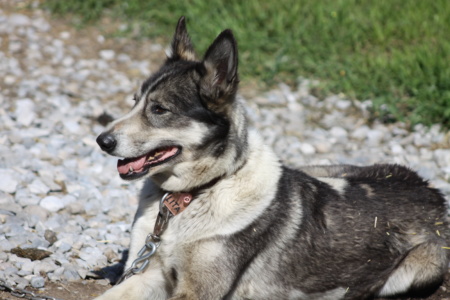 Lita
Lita is a 4 year old Alaskan husky who came to us along with the rest of her teammates from an Iditarod musher in the US who decided to retire from dogsled racing. She is one of our tallest and strongest females with her long legs and slender build. When she first came to us she didn't know what to do with dog treats when we gave them to her, but now that she's discovered they taste good she goes crazy for them.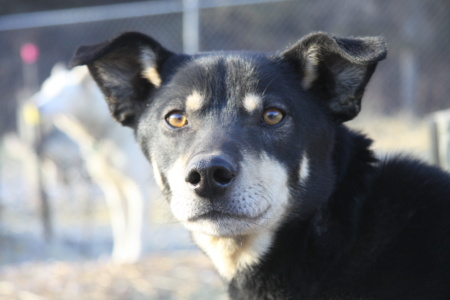 Fearless
Fearless is a 9 year old Alaskan Husky from a racing kennel in central Alberta. During his racing career he never ran in lead, but when he came to us he seemed focused and eager enough to lead. He was a natural at leading with the help of a more experienced female leader. He is an independent leader who still likes to fool around occasionally but focuses when it counts!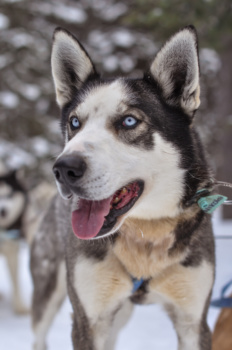 Nikolai
This 5 year old is the son of Dex and Mary! He is a big boy that runs hard and plays hard. He comes by his work ethic naturally and his mother Mary is a two time Iditarod veteran, so his litter is name after checkpoints of the Iditarod: Nikolai, Elim, Rohn, Anchorage, Kaltag, Nome and Safety.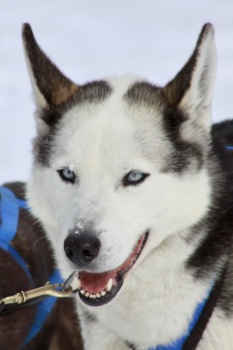 Peppy
Peppy (or as some call him "Pepe le Pew" because of his charming, ladies man personality) is a 9 year old pure bred Siberian husky. He used to race competitively in the purebred class with a kennel in central Alberta. He sure is a charmer and after a few minutes with him you'll be falling in love.
Frequently Asked Questions
Can we pet the dogs?
Of course! All of our dogs are friendly; we encourage interaction at your own comfort level. Some dogs love a good hug or ear scratch. We are the only company who allows you to feed the dogs cookies at the end of the tour!
How often do the dogs run?
We have a good run/rest ratio - the dogs can run 1-4 times per day (depends upon the season) and are on a maximum 2 days on, 1 day off schedule. We have 24+ teams available to rotate in the schedule, so we always have happy, eager dogs!
How many dogs pull the sled?
We use teams of 6 to 8 dogs to pull the sleds. We can adjust the number of dogs pulling the sled according to trail conditions and weight load in the sled.
What type of dogs do you use?
We run Alaskan Racing Huskies and purebred Siberian Huskies. They are a very athletic breed – the same that you would find running dogsled races, both long distance and sprint. We have dogs in our kennel that have run the Yukon Quest and Iditarod, or smaller sprint races ranging from 4 miles to 50 miles. They are bred for endurance, speed and strength, not looks! Please see our webpage on 'Meet the Dogs' for a more in-depth look at these amazing athletes.