Our Dogs
MEET THE "DOGS WITH JOBS"
Our Love & Care for Dogs
We feel that the dogs are the most important part of Howling Dog Tours. One example of the love and care we give our dogs is the fact that we only use professional guides to drive our teams; we would never allow an inexperienced driver to take the teams out without intense training.
At Howling Dog Tours, having a kennel of 200 dogs allows for great run/rest ratios during the day as well as during the week. With the advantage of having trained guides on every sled, there is the flexibility to change the strength of the teams to allow for more or less weight, thus allowing the dogs to maintain a nice working pace and our sleds have no need for weight restrictions. As proven with the Iditarod dogs, the Alaskan Husky is capable of handling much more than the runs they take at Howling Dog tours – doing their job is not a hardship at all and they do it with zest!
Learn more about a few of our team dogs
Sled Dog Breeds
Howling Dog Tours runs several sled dog breeds, the Alaskan Husky, the Siberian Husky and the Seppala Siberian.
The Alaskan Racing Husky has been made famous by such long distance races as the Iditarod and the Yukon Quest. This breed originated from the villages in Alaska where racers crossed the hearty and beautiful Siberian Husky to other breeds such as the greyhound and setter; this created a breed well suited to sled dog racing and touring.
Friendly, sleek and good natured, the Alaskan Husky comes in a variety of colors, sizes and attitudes! For a more in-depth look at the fantastic work ethic and physical capabilities of the Alaskan Racing husky please see the following linked article: https://en.wikipedia.org/wiki/...
Racing Veterans
In the Howling Dog kennel, you can meet dogs from well known racers such as Sam Perrino, Ross Saunderson, Terry and Buddy Streeper, and Doug Swingley. From their early racing days (1989-1995), Rich and Dana have developed a great kennel of eager, friendly dogs; the working breed you will see are kept healthy and happy – it shows in their attitude!
Additions to the kennel and breeding lines are proven Iditarod and Yukon Quest veteran dogs – Whitney, Tanner, Gizmo, Flounder, Bullet, Enigma and Eclipse have competed in 1000+ mile races, and have found a great post-race career home within the kennel of tour dogs. The latest trend in sprint racing brings us a few Alaskan Husky/German Short-haired Pointer crosses; lean, floppy eared and fast, this super friendly cross breed adds character to the wonderful sled dogs in the Howling Dog Tours kennel. To complete the pack, you can also meet our pure-bred Siberian Huskies.
Meet some of our Team Dogs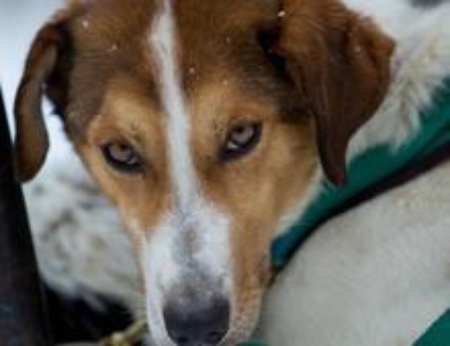 Hunter
Hunter is an Alaskan Racing Husky and a total nutbar... the energiser bunny on steroids.
He likes nothing more after an enthusiastic run than to be petted, and will return the hugs with relish.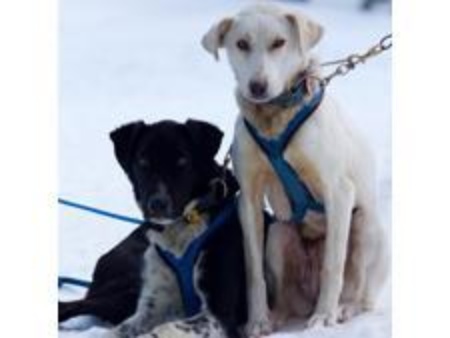 Penrod (left) & Monday (right)
Penrod is an Alaskan Husky and came to us from the Streeper Racing Kennel. He is the strong, silent type who likes to get his job done as professionally as possible.
Monday is also an Alaskan Husky who was raised in our kennel, along with siblings Friday, Saturday and Sunday! She is a total sweetheart who'll melt you with her lovely character.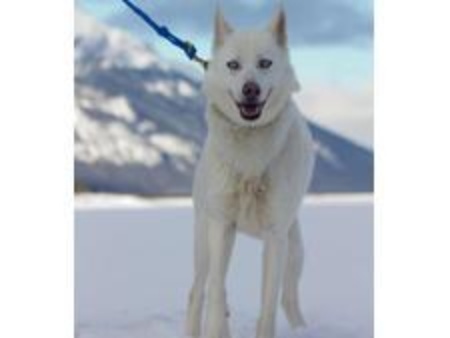 Aca
Aca is a Seppala Siberian who likes to chew harnesses, loves to run, and likes to cause as much havoc as she can.
She has a beautiful coat and always looks right at home on the Spray Lake near Canmore, Alberta... while she's plotting her next bit of mayhem.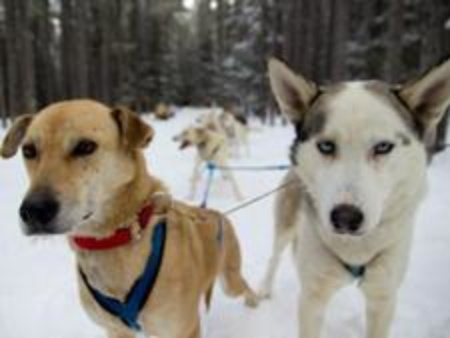 Wicked (left) & Chase (right)
Wicked is an Alaskan Husky, and as an alpha female she is the brains of the operation. Her photo shows her concentrating on the job in hand... this is one lady who won't be distracted easily from her sled dog duties.
Chase is a Seppala Siberian, and nothing is too small or too insignificant for attention... if it moves it's worth chasing.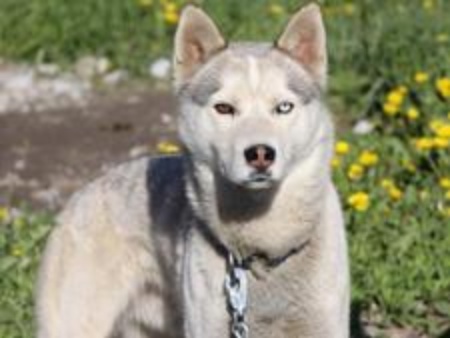 Kimo
Kimo is a Seppala Siberian and quite the ladies man, he was also the proud father to a litter of pups in summer 2011.
Kimo is a great leader, he loves his job and interacts well with humans and canines alike... a good looking boy too!

Frequently Asked Questions
Can we pet the dogs?
Of course! All of our dogs are friendly; we encourage interaction at your own comfort level. Some dogs love a good hug or ear scratch. We are the only company who allows you to feed the dogs cookies at the end of the tour!
How often do the dogs run?
We have a good run/rest ratio - the dogs can run 1-4 times per day (depends upon the season) and are on a maximum 2 days on, 1 day off schedule. We have 24+ teams available to rotate in the schedule, so we always have happy, eager dogs!
How many dogs pull the sled?
We use teams of 6 to 8 dogs to pull the sleds. We can adjust the number of dogs pulling the sled according to trail conditions and weight load in the sled.
What type of dogs do you use?
We run Alaskan Racing Huskies and purebred Siberian Huskies. They are a very athletic breed – the same that you would find running dogsled races, both long distance and sprint. We have dogs in our kennel that have run the Yukon Quest and Iditarod, or smaller sprint races ranging from 4 miles to 50 miles. They are bred for endurance, speed and strength, not looks! Please see our webpage on 'Meet the Dogs' for a more in-depth look at these amazing athletes.